As featured in
The New Zealand Listener & Sussex Life magazines
Richard K Potter
BA Hons PGCE MA
Activity 1:

rock art petroglyphs
Create your own piece of art based on rock art symbols and petroglyphs.
Bushman rock art - Baboon hunting scene.
1. To create your own piece of art it is worth looking at images of rock art on the internet and make sketches of the ones that appeal to you.
2. From the sketches you have made create your own monoprint, line drawing or 2D ceramic impressed piece.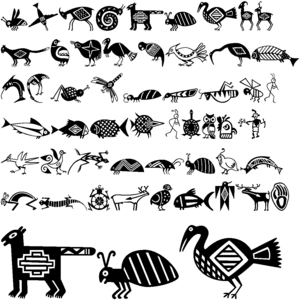 Some rock art symbols.
You could combine this with an anthropological study of the Native Americans.
Other Cultures II
1. To bring about/activate healing you could create a piece of art of your 'shadow self' or 'inner child' with the Ho'oponopono mantra alongside.
2. This can also be opened up by artistically representing others and embracing them with these beautiful words...
Ho'oponopono is a Hawaiian spiritual healing method that focuses on internal healing by taking full responsibility for our outer problems with other people. It is especially helpful to use when forgiveness and reconciliation with another person seems impossible on an outer interpersonal level.
Tibetan Monks make Sand Mandalas for purification and healing. Typically, a great teacher choses the mandala to be created, and monks consecrate the site with sacred chants and music. Next, they make a drawing and fill it with coloured sand. The finshed mandala is consecreated and, having servied its purpose, is swept up and dispersed into flowing water.
Activity 2:

mandala with stones
With the Buddhist mandala as inspiration you could make a mandala from pebbles, beads, buttons or shells, for example.
This is a wonderful example of group work using pebbles to create a larger piece with a different theme.
You could even paint the stones with acrylic, varnish them and glue them to wood to create a wall piece.
Idea from Mid-Pacific school, Honolulu, Hawaii.